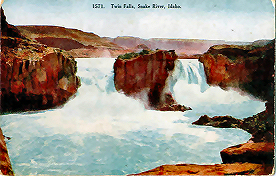 In my 2005 Resolution, being that this is my 30th Anniversary as a knife maker and to spend more time with new creative endeavors, and to create knives that have enormous meaning, I've created this set of "Twin" knives based on the last trip I took with my father. He loved the Snake River in Idaho, and especially the Twin Falls. He used to say to me it reminded him of what a father and son are all about.
Two strong forces, both independent, but from the same source! I loved that metaphor! I bought this postcard to remember that last trip, and also picked up some bone and woods I found along the shore. These are the first knives I made in this year of my 30th Anniversary.
In honor of my father, and in honor of all father-son's in the world. I think of the love of my father as "eternal", so I created one knife to represent the blaze of the day, and the second to remember the sprit of the night. I kept the price very reasonable, so perhaps one can buy the full set (though you can purchase them separately if you wish). And they come with custom fitted sheaths.